Kawasaki Ninja Service Manual: Relay Box Removal
Remove the left fuel tank cover (see Fuel Tank Removal in the Fuel System (DFI) chapter).
Disconnect the connectors [A].
Pull out the relay box [B] from the rubber protector [C].
NOTE
The relay box has relays and diodes. The relays and diodes can not be removed.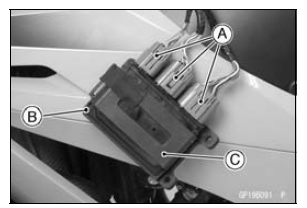 Relay Box Installation
Installation is the reverse of removal. Note the following.
Stick the pad [A] to the rubber protector [B] as shown in the figure.