Kawasaki Ninja Service Manual: Spark Plug Condition Inspection
Remove the spark plugs (see Spark Plug Replacement in the Periodic Maintenance chapter).
Visually inspect the spark plugs.
If the spark plug center electrode [A] and/or side electrode [B] are corroded or damaged, or if the insulator [C] is cracked, replace the plug.
If the spark plug is dirtied or the carbon is accumulated, replace the spark plug.
Measure the gap [D] with a wire-type thickness gauge.
If the gap is incorrect, replace the spark plug.
Spark Plug Gap: 0.8

0.9 mm (0.031


0.035 in.)
Use the standard spark plug or its equivalent.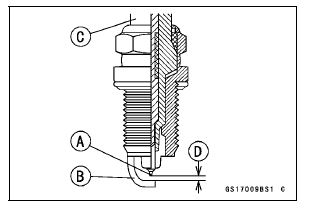 Standard Spark Plug Type: NGK CR9EIA-9