Kawasaki Ninja Service Manual: Stick Coil Installation
Apply a thin coat of grease [A] to the stick coils for easy installation.
Insert the stick coils so that the coil heads align with the lines [B] on the cylinder head cover.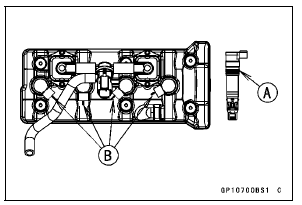 NOTICE
Do not tap the coil head while installing the coil.
After installation, be sure the stick coils are installed securely by pulling up them lightly.
Run the leads correctly (see Cable, Wire, and Hose Routing section in the Appendix chapter).
Install the removed parts (see appropriate chapters).