Kawasaki Ninja Service Manual: Stick Coil Removal
Remove the air cleaner housing (see Air Cleaner Housing Removal in the Fuel System (DFI) chapter).
Disconnect the stick coil connectors [A].
Pull out the stick coils [B] upward.
First, turn the stick coil by 90 degrees, and then pull it out by twisting the coil head to the left and right while holding it securely by hand.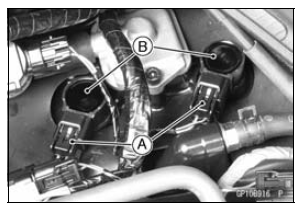 NOTICE
Do not pry the connector part of the coil while removing the coil.