Kawasaki Ninja Service Manual: Axle Inspection
Remove the front and rear axles (see Front/Rear Wheel Removal).
Visually inspect the front and rear axle for damages.
If the axle is damaged or bent, replace it.
Place the axle in V blocks that are 100 mm (3.94 in.) [A] apart, and set a dial gauge [B] on the axle at a point halfway between the blocks. Turn [C] the axle to measure the runout. The difference between the highest and lowest dial readings is the amount of runout.
If axle runout exceeds the service limit, replace the axle.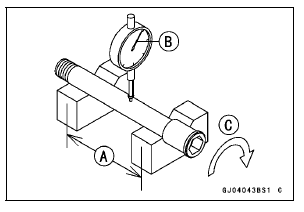 Axle Runout/100 mm (3.94 in.) Standard: TIR 0.03 mm (0.0012 in.) or less
Service Limit: TIR 0.2 mm (0.008 in.)