Kawasaki Ninja Service Manual: Diode Circuit Inspection
Remove the relay box (see Relay Box Removal).
Check conductivity of the following pairs of terminals (see Relay Box Internal Circuit in this section).
Diode Circuit Inspection

The resistance should be low in one direction and more than 10 times as much in the other direction. If any diode shows low or high in both directions, the diode is defective and the relay box must be replaced.
NOTE
The actual meter reading varies with the meter or tester used and the individual diodes, but generally speaking, the lower reading should be from zero to one half the scale.
Relay Box Internal Circuit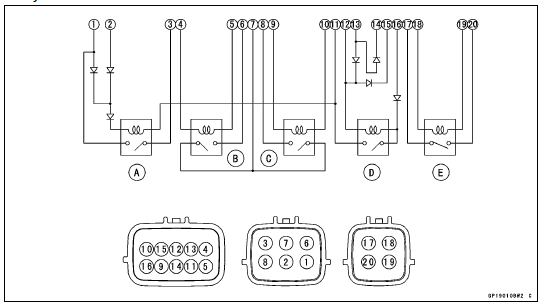 A: Headlight Circuit Relay
B: ECU Main Relay
C: Fuel Pump Relay
D: Starter Circuit Relay
E: Fan Relay